---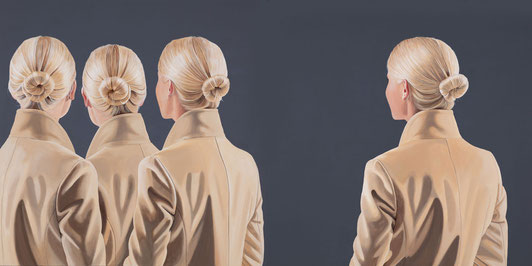 Sabine Liebchen - Untitled I
Pigment Print, numbered, signed
100 x 200 cm
---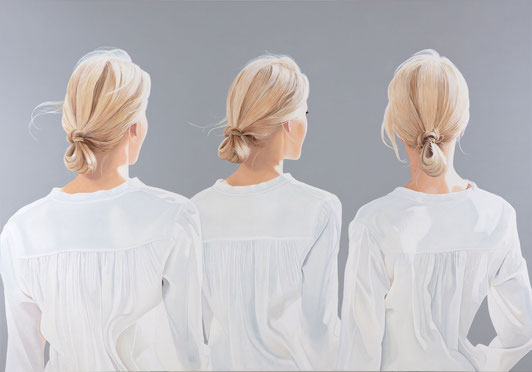 Sabine Liebchen - Untitled II
Pigment Print, numbered, signed
70 x 100 cm
---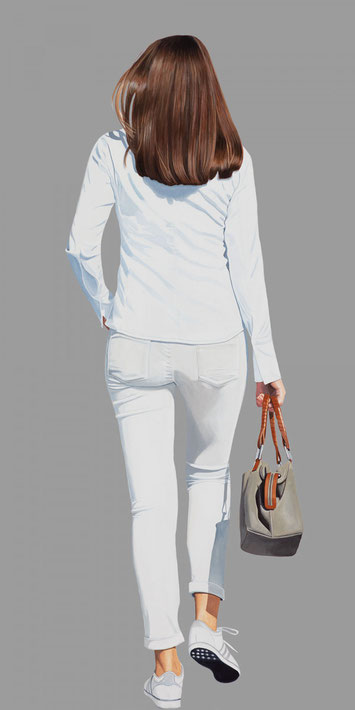 Sabine Liebchen - Untitled III
Pigment Print, numbered, signed
50 x 100 cm
---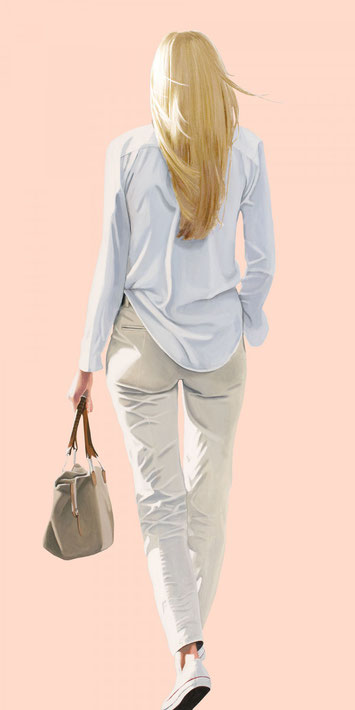 Sabine Liebchen - Untitled IV
Pigment Print, numbered, signed
50 x 100 cm
---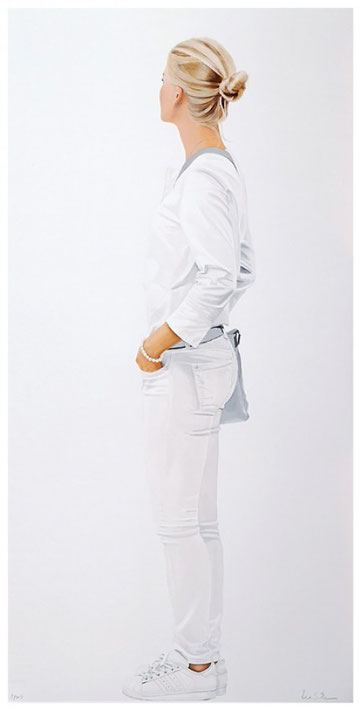 Sabine Liebchen - A. Stehend
Pigment Print, numbered, signed
50 x 100 cm
---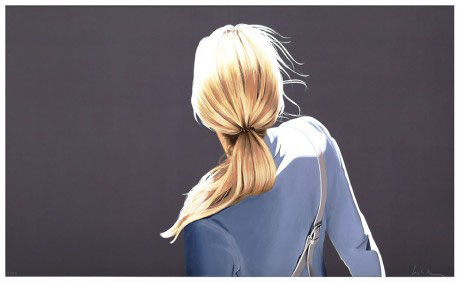 Sabine Liebchen - Mädchen mit blauer Jacke
Pigment Print, numbered, signed
61 x 100 cm
---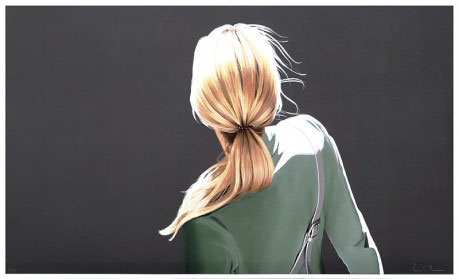 Sabine Liebchen - Mädchen mit grüner Jacke
Pigment Print, numbered, signed
61 x 100 cm
---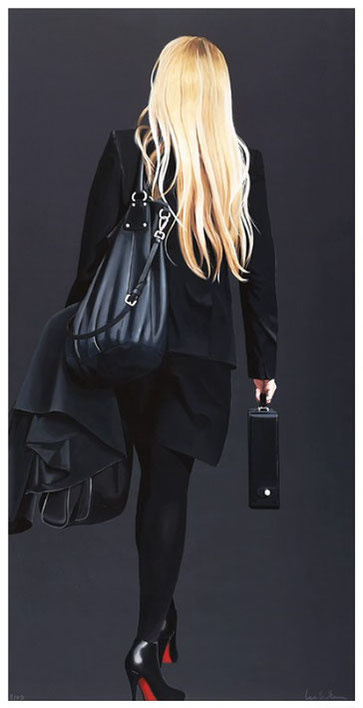 Sabine Liebchen - Dr. Jur
Pigment Print, numbered, signed
50 x 100 cm
---
---
Since she was a teenager, Sabine Liebchen was impressed from an Gerhard Richter exhibition at the Kunsthalle Düsseldorf and in 1978 she had the chance to meet Richter in his own atelier. This and further influences like Manet's blue-green shadows, Edward Hopper's use of light and shadow as well as the directed lighting from Vermeer find in Sabine Liebchen's works a contemporary continuation. The works are images with a clean esthetic and no pomp, whose figures are captured in a supposed spontan movement and love for details strait to a baroque appearance.  "With body shadows masterly painted and light fields she creates an illusion of reality, whose air and atmosphere -like after a purifying thundershower- appear clear and transparent. (...) This way she creates images whose protagonists, thought their outfits, clearly show their reference to the present time. On the other side, the artist takes good care that they remain anonymous."
-Klaus Sebastian
Schon als Jugendliche war Sabine Liebchen von einer Ausstellung des Künstlers Gerhard Richter in der Kunsthalle Düsseldorf beeindruckt und hatte 1978 sogar die Möglichkeit, Richter in seinem Atelier zu besuchen. Dieser und weitere Einflüsse wie Manets blau-grüne Schatten, Edward Hoppers Spiel von Licht und Schatten sowie die Lichtführung bei Vermeer finden in Sabine Liebchens Werken eine zeitgenössische Weiterführung. Es sind Bilder von klarer Ästhetik und ohne Pomp, deren Figuren aber in ihrer vermeintlich spontanen Bewegung und Detailverliebtheit geradezu barock anmuten.  "Mit virtuos gemalten Körperschatten und Lichtfeldern erzeugt sie eine Illusion von Realität, deren Luft und Atmosphäre -wie nach einem reinigenden Gewitterschauer - klar und transparent erscheint. (...) So entstehen einerseits Bilder, deren Protagonisten aufgrund ihrer Kleidung (...) in einem klarem Gegenwartsbezug stehen. Andererseits achtet die Künstlerin sorgsam darauf, dass ihre Figuren anonym bleiben."  -Klaus Sebastian
Sabine Liebchen a deux atouts:  sa mise en scène originale et sa perfection dans la réalisation hyperréaliste. La pureté des coloris utilisés en fond , la finesse des détails, la lumière magnifiquement rendue, les sujets féminins d'une grande beauté (même si on les devine sans réellement les voir), tout concourt à cette atmosphère magique. Même si elle travaille beaucoup, Sabine Liebchen a une production limitée de par la qualité accordée à chaque oeuvre. C'est pourquoi hésiter,  ne vous permettra peut-être pas d'acquérir votre coup de coeur…
---
Do you have any questions or suggestions? Please contact us with this contact form and we will reply as soon as possible.
Haben Sie Fragen oder Anregungen? Dann kontaktieren Sie uns über unser Kontaktformular! Wir werden uns schnellstmöglich um Ihr Anliegen kümmern. 
Avez-vous des questions ou suggestions? Veuillez nous contacter par ce formulaire s'il vous plaît. Nous vous répondrons le plus vite possible.